ANTOINE BOURDELLE (1861 -1929)
IN THIS WEBPAGE OF HELLENIC POETRY WE CONTINUE WITH THE WRITINGS OF ANASTASIOS DRIVAS, WHICH  WILL TRAVEL US TO VARIOUS PLACES.

WE CONTINUE WITH HIS ESSAY: ΜΙΑ ΕΠΕΤΕΙΟΣ Ο ΓΛΥΠΤΗΣ ΜΠΟΥΡΝΤΕΛΛ , PUBLISHED IN ΛΟΓΟΣ IN OCTOBER 1930.

IT WILL TAKE US TO PARIS  AND TO THE SCULPTURE OF A. BOURDELLE WHO HIS WIFE WAS GREEK.
---
ΕΝΑΣ ΧΡΟΝΟΣ ΣΥΜΠΛΗΡΩΘΗΚΕ ΑΠΟ ΤΗΝ ΗΜΕΡΑ ΤΟΥ ΘΑΝΑΤΟΥ ΤΟΥ ΜΕΓΑΛΟΥ ΓΛΥΠΤΟΥ Α. ΜΠΟΥΡΝΤΕΛΛ. Ο ΕΠΙΚΟΣ ΓΕΡΟΣ ΜΕ ΤΗΝ ΓΛΥΚΕΙΑ ΚΙ' ΕΠΙΒΛΗΤΙΚΗ ΜΟΡΦΗ, ΤΗΝ ΑΡΧΑΪΚΑ ΣΤΕΦΑΝΩΜΕΝΗΝ ΑΠΟ ΤΑ ΑΣΠΡΑ ΓΕΝΕΙΑ, ΥΠΟΚΥΨΕ ΠΕΡΥΣΙ ΤΕΤΟΙΟΝ ΚΑΙΡΟ ΣΤΗΝ ΑΡΡΩΣΤΕΙΑ ΠΟΥ ΕΙΧΕ ΥΠΟΣΚΑΨΕΙ ΤΗ ΖΩΗ ΤΟΥ ΑΠΟ ΤΑ ΝΕΑΝΙΚΑ ΧΡΟΝΙΑ ΤΗΣ. ΜΙΑ ΥΠΕΒΟΛΙΚΗ ΕΡΓΑΤΙΚΟΤΗΤΑ, ΣΥΝΔΥΑΣΜΕΝΗ ΜΕ ΠΝΕΥΜΑΤΙΚΗ ΥΠΕΡΕΝΤΑΣΗ ΕΞΑΙΡΕΤΙΚΗ ΚΑΙ ΠΟΥ ΣΤΑ ΠΡΩΤΑ ΤΗΣ ΒΗΜΑΤΑ ΕΙΧΕ ΠΑΛΕΨΕΙ ΕΝΑΝΤΙΑ ΣΤΗΝ ΠΙΟ ΣΚΛΗΡΗ ΣΤΕΡΗΣΗ ΤΩΝ ΜΕΣΩΝ ΤΗΣ ΖΩΗΣ, ΕΣΤΑΘΗΚΕ Η ΑΦΟΡΜΗ ΤΗΣ ΑΡΡΩΣΤΕΙΑΣ ΠΟΥ ΚΛΟΝΙΣΕ ΚΑΙ ΤΑΡΑΞΕ ΠΑΝΤΑ ΤΗΝ ΟΛΥΜΠΙΑ ΓΑΛΗΝΗ ΤΗΣ ΖΩΗΣ ΤΟΥ. Ο ΚΑΤΑΤΡΕΓΜΟΣ ΤΩΝ ΜΙΚΡΩΝ ΚΑΙ ΣΤΕΝΟΚΑΡΔΩΝ ΑΝΘΡΩΠΩΝ ΠΟΥ ΠΟΛΕΜΟΥΝ ΤΟΥΣ ΓΙΓΑΝΤΕΣ ΟΧΙ ΜΕ ΤΟ ΘΑΡΡΟΣ ΤΗΣ ΑΝΥΠΑΡΧΤΗΣ ΑΤΟΜΙΚΟΤΗΤΑΣ ΤΟΥΣ ΑΛΛΑ ΜΕ ΤΗ ΔΕΙΛΗ ΑΥΘΑΔΕΙΑ ΤΟΥ ΑΡΙΘΜΟΥ ΤΟΥΣ, ΕΣΤΑΘΗΚΕ Ο ΔΕΥΤΕΡΟΣ ΕΦΙΑΛΤΗΣ ΤΟΥ ΒΙΟΥ ΤΟΥ. ΜΑ ΚΕΙΝΟΣ ΕΠΕΣΕ, ΚΑΙ ΠΕΦΤΟΝΤΑΣ ΚΑΤΗΓΑΓΕ ΤΗΝ ΜΕΓΑΛΥΤΕΡΗ ΝΙΚΗ ΤΟΥ ΕΝΑΝΤΙΑ ΣΕ ΟΛΟΥΣ ΤΟΥΣ ΑΝΤΙΠΑΛΟΥΣ ΤΟΥ, ΤΗ ΝΙΚΗ ΠΟΥ ΔΕΝ ΕΙΧΕ ΣΗΜΕΙΩΣΕΙ ΖΩΝΤΑΝΟΣ. ΕΝΙΚΗΣΕ ΤΗΝ ΕΦΗΝΕΡΟΤΗΤΑ ΚΑΙ ΜΠΗΚΕ ΣΤΗΝ ΑΘΑΝΑΣΙΑ.

[…]

ΓΝΗΣΙΟΣ ΜΑΘΗΤΗΣ ΤΩΝ ΠΡΩΤΩΝ ΕΛΛΗΝΩΝ ΚΑΛΛΙΤΕΧΝΩΝ ΤΗΣ ΠΡΟΪΣΤΟΡΙΑΣ ΚΑΙ ΤΗΣ ΕΠΙΚΗΣ ΤΟΥ ΠΝΟΗΣ ΚΛΗΡΟΝΟΜΟΣ, ΚΑΤΟΡΘΩΕΝΕΙ ΚΑΙ ΣΥΛΛΑΜΒΑΝΕΙ ΜΕ ΤΗΝ ΡΩΜΑΛΕΑ ΣΚΕΨΗ ΤΟΥ ΤΟ ΜΥΣΤΗΡΙΩΔΕΣ ΜΥΣΤΙΚΟ ΤΗς ΕΠΙΒΛΗΤΙΚΟΤΗΤΑΣ ΤΟΥΣ.

ΑΝΑΣΤΑΣΙΟΣ ΔΡΙΒΑΣ, Ο ΛΟΓΟΣ, ΧΡ. Α', ΤΧ 1. ΟΚΤΩΒΡΙΟΣ 1930, ΣΣ. 8-10
Herakles, bronze sculpture by Antoine Bourdelle, 1909; in the Art Institute of Chicago
Childhood (1861-1876)

Emile-Antoine Bourdelle was born in Montauban on 30 October 1861.

He was the only son of Emilie Reille, the daughter of a weaver, and Antoine Bourdelle, a carpenter and cabinet maker who sculpted the furniture he designed.
At school, the child showed such a gift for drawing that his teacher, Mr Rousset, allowed him to express himself freely, "sitting in a kind of hall, away from the rest of the class" (Bourdelle, Ecrits sur l'art et sur la vie – Writings on Art and Life).

Aged 13, Bourdelle joined his father's studio as an apprentice. In the evening, he took drawing classes in Montauban, where he learned modelling techniques based on the study of copies of antique plaster casts. The young cabinet maker's skill soon earned him the recognition of art lovers in Montauban. In 1876, he was given a scholarship and passed the entrance examination for the Toulouse School of Fine Arts.

Beginnings (1876-1897)

Bourdelle experienced eight years of solitude and feverish work during his studies in Toulouse, tempered by the discipline of academic institution.

Following his success in the entrance examination for the Paris School of Fine Arts in 1884, where he came second, Bourdelle entered Alexandre Falguière's studio and left two years later : "I have had enough ! I do not understand all these systems of prizes and competitions".

In 1885, he moved into the studio on 16, impasse du Maine – which is now the museum. That same year, his paster cast of La Première victoire d'Hannibal (The First Victory of Hannibal) won a medal at the Salon of French Artists.
It brought him recognition but Bourdelle still had to earn a living. In 1893, Rodin hired him as a "praticien" (sculptor's assistant). The two men respected each other and the collaboration proved to be a decisive one. In 1895, Bourdelle was commissioned by his home town to make
the Monument aux combattants et défenseurs du Tarn-et-Garonne de 1870-1871 (Monument to the fighters and defenders of Tarn-et-Garonne of 1870-1871) in which he expressed an intense and very personal lyricism.

Rise to fame (1897-1908)

In 1900, Bourdelle decorated the theatre of the Grevin Museum, at the request of its director, Gabriel Thomas, with masks and a low relief for the top of the stage : Les nuées (The clouds).

That year, with Rodin and the sculptor Desbois, he founded a free sculpture school in Montparnasse. In his attempt to find his own way, Bourdelle freed himself from the style of Rodin. His Tête d'Apollon (Head of Apollo), which he began that year, shows a different way of thinking : "I broke away from the accidental, in search of the permanent plane" (Bourdelle, Ecrits sur l'art et sur la vie – Writings on Art and Life).

In 1905, the foundry owner Hébrard invited him to exhibit in his Parisian gallery on Rue Royale. The artist's first personal exhibition included 39 sculptures, 18 paintings and 21 drawings. Elie Faure wrote the catalogue's preface. Bourdelle also exhibited at the Salon d'Automne for the first time with 15 works including the bronze version of Pallas. He left Rodin's studio in 1908.

Maturity (1908-1929)

In 1909, Bourdelle started teaching at the Grande Chaumière Academy, where his students included Alberto Giacometti, Germaine Richier, Vieira da Silva and Otto Gutfreund.

Exhibited in 1910 at the Salon of the National Society of Fine Arts, Bourdelle's Héraklès archer (Hercules the Archer) was acclaimed by the public and the critics. Many museums asked to display the masterpiece and it was reproduced everywhere, even in children's school books.

Gabriel Thomas gave Bourdelle another commission, this time for the Théâtre des Champs-Elysées (1910-1913) : by turns architects, sculptor and painter, Bourdelle once more proved his capacity "to conceive of everything as a monument".

The decade of 1919-1929 proved a time of great official commissions : La Vierge à l'offrande (The Virgin of the offering) (1919-1923) erected in Alsace and La France (France) (1925) in front of the Grand Palais for the Decorative Arts Exhibition. The Monument au général Alvéar (Monument to general Alvear) was inaugurated in Buenos Aires in 1926, and the Monument à Adam Mickiewic (Monument to Adam Mickiewic) in Paris, on 28 April 1929.
Bourdelle's major work includes:

spandrel reliefs for the portal of the Musee Grevin, Paris, 1900

the Monument aux Morts de Montauban, 1902

the freestanding gilded bronze Hercules the Archer, 1909

the decorative series of friezes executed for the exterior of Auguste Perret's Theatre des Champs-Elysees (1913). Although the building itself is famously an early example of concrete construction, the friezes are marble.

interior frieze at the Opera de Marseille, framing the stage

the Monument to Mickiewicz near the Pont de l'Alma in Paris, designed in 1909, realized in 1929

two angels on the crypt at the war memorial, Hartmannswillerkopf, for French architect Robert Danis, 1920s

bronze tympanum Pieta for the Eglise Notre-Dame du Raincy, designed in the 1920s, finally realized and dedicated in September 1999

equestrian statue of General Carlos Maria de Alvear, Recoleta, Buenos Aires

war memorial, Capoulet-et-Junac

bust of Jiddu Krishnamurti, 1928, located at the Krishnamurti Foundation Library, Ojai, California

Today the Musee Bourdelle in Paris sits amidst brick houses at 18 rue Antoine Bourdelle, a small street between the Gare Montparnasse and the offices of the famous French newspaper Le Monde. The museum consists of Bourdelle's house, studio and garden where he worked from 1884 to 1929. A second Bourdelle garden-museum, in Egreville, was established by his heirs in the late 1960s hosts another 56 of his sculptures.

His work is also exhibited in public collections worldwide, including the Aichi Prefectural Museum of Art (Japan), the Cleveland Museum of Art, National Museum of Art of Romania, the Courtauld Institute of Art (London), the Fine Arts Museums of San Francisco, Galleria Nazionale d'Arte Moderna (Rome), Harvard University Art Museums, the Hermitage Museum, the Hirshhorn Museum and Sculpture Garden (Washington D.C.), the Honolulu Museum of Art, the Kimbell Art Museum (Fort Worth, Texas), Kroller-Muller Museum (Otterlo, Netherlands), the Minneapolis Institute of Arts, Museo Nacional de Bellas Artes (Buenos Aires), the National Galleries of Scotland, the National Gallery of Australia, the Ingres museum in Montauban, the Royal Museums of Fine Arts of Belgium, and the Middelheim Museum (Antwerp, Belgium) ALCHETRON
What a treat to discover an artist through his work and also through the privacy of his studio!

The museum is very pleasant and the exhibition spaces open onto the gardens. Don't miss this visit that is just a few streets away from Montparnasse tower.

The visit…

Through sculpture, through graphics, painting and photography, enter the world of Antoine Bourdelle as you follow his artistic development. Discover: His studio – The sculpture gardens – The Great Hall – His apartment – The modern extension. As you wander along, the artist's largest sculptures are on display: The Dying Centaur, The Head of Apollo, Adam, Crouching Bather, Heracles the Archer… Filled with feeling and humanism, Bourdelle's sculpture is a narrative. That is why the museum organises a number of activities around storytelling. Children in particular, when they participate in educational workshops, can discover the tales of Greek mythology as seen through the eyes of this artist.

A little history…

In the lineage of the great sculptures

A colleague of Rodin and master to Giacometti, Germaine Richier and Viera Da Silva, Antoine Bourdelle (1861-1929) is a major figure in early 20th century sculpture, considered to be one of the forerunners of monumental sculpture. In 1895, he moved into this studio at 16 rue du Maine. In this space he carried out all of his visual research. In 1910, when his career was already quite successful, he acquired full recognition when he displayed Heracles the Archer. Reproduced right down to school books, this sculpture gained him greater notoriety and prestigious official commissions: La Vierge à l'offrande or France for the Grand Palais.

The creation of the museum

At the end of his life, Bourdelle, like his friend Rodin, wanted to bequeath his body of work to the city of Paris to be housed in a museum that would bear his name. In 1928, he himself drew up the plans for the museum in which each of his sculptures would have a predefined space. He died the following year and it took all the tenacity and resolution of his wife and daughter for his grand design to come into being. Under threat of expropriation, the land was finally purchased by a benefactor, and in 1948 the city of Paris accepted the donation of the studio and a considerable store of 800 sculptures, 200 paintings and pastels and more than one thousand drawings. The architect Henri Gautruche created a small gallery and the Musée Bourdelle opened its doors on July 4, 1949. In 1961, Henri Gautruche designed the Great Hall which now contains the artist's most monumental sculptures. CITYGUIDEPARIS
"There is an error throughout the
whole world of art", he went on after a
BOURDELLE

Author(s): MAY ELLIS NICHOLS

Source: The American Magazine of Art, Vol. 22, No. 3 (MARCH 1931), pp. 185-192
Bas reliefs du théâtre des champs ElyséesChronologie1910-1913
One of these monuments had been commissioned in 1912 by the Argentinian government to commemorate the nineteenth-century General Alvear in Buenos Aires. It was to include an equestrian portrait and the symbolic representation of the General's virtues: Strength, Eloquence, Victory and Liberty. The other monument was dedicated to the nineteenth- century Polish writer Adam Mickiewicz. What is it that prompted their interpretations?

The significance of Bourdelle's monumental figures came to be defined in the context of postwar foreign affairs. The process was initiated by the gift which the Argentinian government made of a replica of Bourdelle's Victory to Marshal Petain in July 1920.

The official ceremonies were well covered in the press which also recorded the speeches delivered in homage to 'the chief of the Verdun defense'.4 The language of criticism immediately tuned in:

This gift signifies that Bourdelle's oeuvre, commissioned for Alvear, but conceived and executed at the time of the triumph of our armies is a faithful allegorical image of a moment of our history from which Bourdelle's Victory is born, much more than from the history of the Argentinian people. The validity of this interpretation was confirmed by the sculptor, in the letter he wrote to Marshal Petain, explaining the symbolism of Victory:

I had started building the forms of Victory long before the war [. . .] it was to symbolise a Victory long acquired. . .

Then came the mobilisation, ours. I thereupon felt it within me that the figure had to be standing upright and tenacious. I tied her hair in plaits which projected around her neck to protect it from shells: I dressed her with a plain and solid helmet.

Then it was the burning of Notre-Dame, Reims, Queen of the cathedrals, and the tabernacle of my art as an architect-sculptor.

So I armed Victory with the Great Sword of our race; impregnated with tenacious hope. I searched into the sky of France at war. Then came the Verdun Epic, yours, Marshal. This period dictated The Shield to me.

Next, there was your clarity of mind which reconstructed the moral of the great French soldiers. And I dressed my Victory which fate had made yours with The Cloak of Wisdom, Athena's aegis, clear Pallas's aegis of snakes. This coat came to her from your action, Marshal.

The aura of Petain in the 1920s cemented the meanings of Bourdelle's sculpture.

The Alvear Victory was seen as the threefold symbol of France's resilience through the war, the 'victory' of 1918 and the image of the virtues of the Nation's Protector: wisdom, strength and vigilance. The Alvear Monument had become so potent a symbol of the great war that, before it was shipped off to Buenos Aires, a petition was organised request- ing that a replica be cast which, the text specified, would be the perfect model for the Paris war memorial.

[…]

As Peter Murray, the Director of the Yorkshire Sculpture Park, stated in the introductory essay to the exhibition catalogue:

These sculptures demonstrate that they have the power to assert themselves and take an autonomous existence in a new environment. [my italics]

In the event, 'autonomy' did not simply refer to the fact that the monumental figures had been dis- connected from their architecture. One of the condi-tions Peter Murray set for an understanding of Bourdelle was that one should be oblivious of the thematic of his sculpture:

Bourdelle's classical themes and concern for the heroic in art cannot mask his modernity and his sculptural innovation.

Entrepreneurs of the New Order: Bourdelle in the Park

Author(s): Claudine Mitchell

Source: Oxford Art Journal, Vol. 13, No. 2 (1990), pp. 101-112
Plâtre de la France sans bras, Positif d'après négatif en nitrate, vers 1901, Attribué à Antoine Bourdelle
It is well to
BOURDELLE

Author(s): MAY ELLIS NICHOLS

Source: The American Magazine of Art, Vol. 22, No. 3 (MARCH 1931), pp. 185-192
Bourdelle juché dans la plâtre du Monument des Combattants, 1901, Positif d'après négatif en nitrate de cellulose, Attribué à Sacerdole
 Guerrier en cours de modelage, 1898, Tirage aristotype à la gélatine ©Louis Silvestre
[…]

The conception of the Bourdelle exhibition rested on an equation between open air and public space which worked to efface the historical and political dimensions of the sculptor's practice. With the First World War, Bourdelle, unlike many of the artists classified as 'modernist', acquired the conviction that art would be insignificant unless it engaged with history. His monumental practice was first of all defined by its social function: to relocate the violently disrupted linear time of history within the cyclic time of public ceremonies which cement national identities. The thematic, formal and technical dimensions of monumental art are all functional to a symbolic order, defined in the interplay of power relations between the artist and the State. To fulfil his ambition for an art placed at the centre of French intellectual and political life, Bourdelle had to develop some measure of control over the politics of public space. One of his main strategies was to

make the press articulate his opinions and ambitions on the occasion of the annual Paris Salons, by focusing the critics' attention on specific exhibits by providing a framework for a discussion of his work through his own publications. His other strategy consisted in claiming that his monuments answered France's most urgent political needs. The development of La France from the state commission of 1923 to the Monument to the Dead, unveiled in 1932 in Montauban, exemplifies this procedure.

Consider the letter Bourdelle wrote to the Prefet de la Seine in 1926, to convince him that La France was the war memorial Paris needed: The Alma Square is the ideal site for it. We, the European Allies, are placed there in this ideal centre to keep in this sculpture the memory of the American intervention. Our Lafayette is nearby.

Design: a kind of altar for the peace alliance. Subject: this bronze is made up of four elements

(1) France, with the aegis on her shoulder

(2) She keeps a peaceful watch over the memories of the Allies' armies.

(3) The high spear which she holds quite straight is ornamented with the olive branch of peace. The Shield of Right is placed quite close to her, at her feet, to her right. It is made up of the Tables of the Law.

(4) The great snake of Minerva, the Goddess of Reason rises in a spiral against France's shoulder who listens to his wisdom. Figure and attributes (bronze with gold leaf) measure 9m.

The first paragraph confirms the terms of the 1923 State commission. Bourdelle had been requested to design the model for a figure that was to be sited in front of a lighthouse under construction at La Pointe de Grave near Bordeaux, to commemorate the intervention of the United States in the First World War. Hence, the first description of the sculpture as 'La France saluting America', with its specific gesture and its facial expression: one hand placed on the forehead in order to scrutinize the horizon, in a form of military salute.

The idea of commemorating a specific event of the First World War embarrassed Bourdelle who feared that his art might be thought a celebration of the destructive forces of war. He turned to the press to clarify his position on this issue.

To circumvent this problem, Bourdelle decided to represent the State as the Guardian of Peace, appropriating Greek mythology for twentieth- century culture and borrowing from the repertory of symbols fixed by tradition. He effectively trans- formed the terms of the commission by opting to personify France in the guise of Athena with her dual character of War Goddess and Goddess of Reason, neutralising the former and emphasising the latter.

Bourdelle's account conveys the idea that a monument organises a series of signs which unfolds like a text. Athena is identified by her attribute, the aegis, a breast-plate which rendered her invincible. The fact that the gorgon's head is missing on La France's aegis suggests that its function is to protect rather than aggress. Similarly, the fact that the spear, the attribute of the War Goddess, is not held at an oblique angle but rests 'peacefully', indicates that it is a dissuasive weapon. The olive branch, the emblem of peace, altogether neutralises the attributes of the war goddess. Through a symbolism of place – the high position the wreath occupies on the vertical axis of the composition – peace is defined as the ideal one aspires to.

In the core of his letter Bourdelle explains what the main semantic units of the sculpture are, and how they can be read. Wisdom and knowledge are signified by a personification, the snake, and a characterisation, the capacity to take counsel. The compositional structure of the snake, a spiral rising upwards, defines wisdom as that which comes from the past. The idea of justice is signified by an emblem 'the Shield of Right'. Thanks to the symbolism of place and space, the fact that the shield rests on a pedestal which is lower and slightly in front of the pedestal of the Minerva figure, justice is defined as the most fundamental belief – that on which the State depends. Thus, according to the sculptor, what La France most clearly represents are the beliefs, the virtues and the institutions which the State needs to ensure world peace: the ideal of justice, strength, wisdom, the law, and dissuasive armed force.

Since Paris had been host to the 1919 Peace Conference, it made sense to argue that the war memorial which the capital needed should celebrate France's prominent role in the League of Nations. The suggestion was not wasted. The Minister of the Arts, for instance, developed the idea in his in- augural speech, and discussed the Monument to the Dead as embodying the spirit of the Peace Alliance. He also congratulated Bourdelle for having articulated a style which could serve as a kind of inter- national language.

The Altar to the Peace Alliance is reminiscent of a Greek Temple, or rather the remains of a temple as they might have been reconstituted in the twentieth century. The fact that Bourdelle called the architecture of the monument 'my temple' is indicative enough of his conception of monumental art as the site and focus of social practices.

To give a sense of scale to his architectural drawing, Bourdelle has included a figure to the bottom right. This character intrigued me, for in many ways, it also represents the kind of public Bourdelle imagined to be his. The character is a composite of social classes with a hat, a blouse, and with the object he carries in his hand which is at once a stick and a tool. As far as it is possible to identify him, the figure is that of the craftsman conceived as the centre of the social hierarchy, the reunification of the intellectual and the manual worker. Such conception of class corresponds to Bourdelle's ambition that his art should address all members of society as well as his political conviction that class hierarchy is conducive to social harmony.

The character is also indicative, I think, of the relationship Bourdelle thought would pertain between the monument and its public. The attitude of the figure seems one of reflexion rather than outright admiring contemplation and subjection. The drawing represents the monument as the medium through which the public can apprehend the fundamental values of civilisation; its abstract nature leaves a space for interpretation as to what these are: culture, justice, liberty, harmony, the nation, peace. The State (La France), is thereby defined as the protector of the very values which the war has split apart.

[…]

Entrepreneurs of the New Order: Bourdelle in the Park

Author(s): Claudine Mitchell

Source: Oxford Art Journal, Vol. 13, No. 2 (1990), pp. 101-112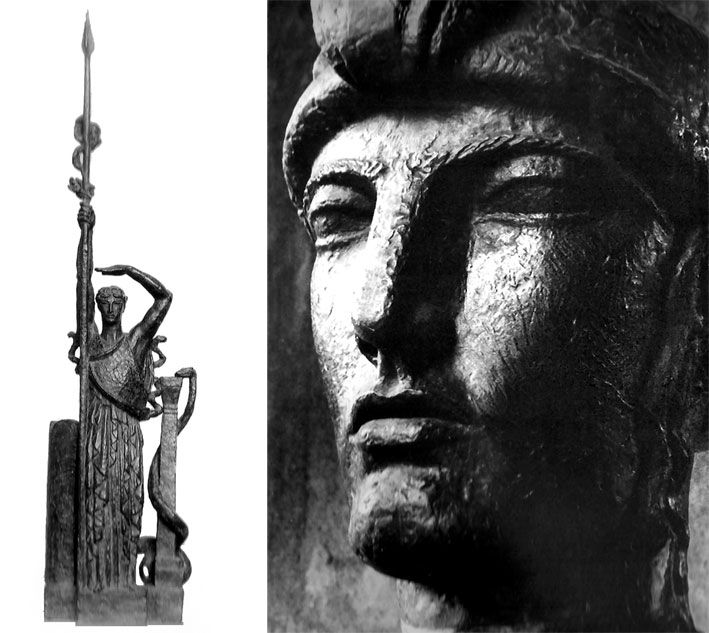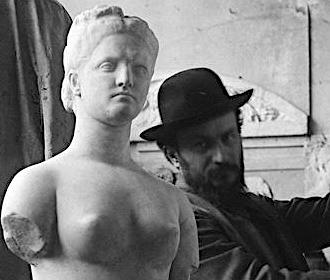 ΑΠΟ ΤΗΝ ΕΠΟΨΗ ΤΗΣ ΥΠΟΚΕΙΜΕΝΙΚΗΣ ΑΠΟΔΟΣΗΣ ΤΩΝ ΠΡΟΣΩΠΩΝ, ΣΤΑ ΜΙΚΡΟΤΕΡΑ ΤΟΥ ΕΡΓΑ, ΣΤΕΚΕΤΑΙ ΠΡΟΧΩΡΗΜΕΝΟΣ ΜΕΝ ΚΑΛΛΙΤΕΧΝΗΣΑΛΛΑ ΙΣΩΣ ΟΧΙ ΟΛΟΤΕΛΑ ΑΠΑΛΛΑΓΜΕΝΟΣ ΑΠΟ ΤΗΝ ΜΟΙΡΑΙΑ ΕΠΙΔΡΑΣΗ ΤΟΥ ΡΟΝΤΕΝ, ΤΟΥ ΕΦΙΑΛΤΗ ΤΗΣ ΚΑΛΛΙΤΕΧΝΙΚΗΣ ΤΟΥ ΖΩΗΣ. Η ΠΡΟΤΟΜΗ ΤΟΥ ΑΝΑΤΟΛ ΦΡΑΝΣ, ΤΟ ΘΕΣΠΕΣΙΟ ΕΚΕΙΝΟ ΚΕΦΑΛΙ ΤΟΥ ΜΠΕΤΟΒΕΝ, ΕΙΝΑΙ ΤΑ ΕΡΓΑ ΕΝΟΣ ΜΕΓΑΛΟΥ ΤΑΛΕΝΤΟΥ ΒΕΒΑΙΑ ΑΛΛΑ ΠΟΥ ΒΡΙΣΚΕΤΑΙ ΚΑΤΩ ΑΠΟ ΗΝ ΤΥΡΡΑΝΙΚΗ ΠΡΟΣΤΑΣΙΑ ΤΟΥ ΕΝΟΣ ΜΕΓΑΛΟΥ ΟΔΗΓΗΤΗ. ΜΟΝΟ ΣΤΟΝ «ΗΡΑΚΛΗ ΤΟΞΟΤΗ», ΤΟ ΠΕΡΙΦΗΜΟ ΕΡΓΟ ΠΟΥ ΤΟΥ ΔΙΝΕΙ ΤΟΝ ΠΡΩΤΟ ΘΡΙΑΜΒΟ, Η ΔΥΝΑΤΗ ΠΡΟΣΩΠΙΚΟΤΗΤΑ ΤΟΥ ΜΠΟΥΡΝΤΕΛΛ ΞΕΣΠΑΖΕΙ ΜΕ ΟΡΜΗΝ ΑΧΑΛΙΝΩΤΗ, ΓΙΑ ΝΑ ΣΥΝΕΧΙΣΕΙ ΤΟ ΣΤΑΘΕΡΟ ΤΗΣ ΑΝΕΒΑΣΜΑ ΠΡΟΣ ΤΗΝ ΟΡΙΣΤΙΚΗ ΕΠΙΒΟΛΗ ΠΟΥ ΣΗΜΕΙΩΝΕΤΑΙ ΜΕ ΤΗΝ ΔΙΑΚΟΣΜΗΣΗ ΤΩΝ ΜΕΤΩΠΩΝ ΤΟΥ ΘΕΑΤΡΟΥ ΤΩΝ ΗΛΥΣΙΩΝ ΠΕΔΙΩΝ.

[…]

 Ο «ΗΡΑΚΛΗΣ» ΠΡΟΣΕΒΑΛΕ ΤΟΥΣ ΒΑΣΙΚΟΥΣ ΚΑΝΟΝΕΣ ΤΗΣ ΓΝΩΣΤΗΣ ΤΟΤΕ ΓΛΥΠΤΙΚΗΣ. Η ΤΟΣΟ ΠΑΡΑΤΟΛΜΗ ΣΤΑΣΗ ΤΟΥ, ΜΕ ΤΟ ΕΝΑ ΠΟΔΙ ΤΕΝΤΩΜΕΝΟ ΣΤΟ ΒΡΑΧΟ, ΤΟ ΣΩΜΑ ΣΥΜΜΑΖΕΜΕΝΟ ΣΤΟ ΔΕΞΙ, ΑΝΑΤΡΕΠΕΙ ΤΟΥΣ ΚΑΝΟΝΕΣ ΤΗΣ ΙΣΟΡΡΟΠΙΑΣ· ΟΜΩΣ ΤΟ ΕΡΓΟ ΑΝΑΓΝΩΡΙΖΕΤΑΙ ΓΡΗΓΟΡΑ ΓΙΑ ΑΡΙΣΤΟΥΡΓΗΜΑ.

[…]

ΑΥΤΟ ΕΙΝΑΙ ΟΛΟ. ΦΕΡΝΕΙ ΑΠΟ ΤΑ ΒΟΥΝΑ ΤΗΣ ΠΑΤΡΙΔΑΣ ΤΟΥ ΚΑΙ ΤΗΝ ΓΕΝΙΑ ΤΩΝ ΒΟΥΝΙΣΙΩΝ ΤΟΥ ΠΡΟΓΟΝΩΝ ΤΗΝ ΓΕΜΑΤΗ ΥΓΙΕΙΑ ΚΑΙ ΑΛΚΗ ΨΥΧΗ. ΚΑΙ Η ΣΥΓΓΕΝΕΙΑ ΤΟΥ ΜΕ ΤΟΝ ΜΕΓΑΛΟ ΑΡΧΑΪΚΟ ΠΟΛΙΤΙΣΜΟ ΤΟΝ ΤΙΜΑΕΙ ΑΝΤΙ ΝΑ ΤΟΝ ΥΠΟΒΙΒΑΖΕΙ.

ΑΝΑΣΤΑΣΙΟΣ ΔΡΙΒΑΣ, Ο ΛΟΓΟΣ, ΧΡ. Α', ΤΧ 1. ΟΚΤΩΒΡΙΟΣ 1930, ΣΣ. 8-10
Trois études de têtes de guerriers, tirage gélatino-argentique vers 1898, Attribué à Antoine Bourdelle