Η ΑΝΘΡΩΠΙΝΗ ΙΣΤΟΡΙΑ ΕΝ ΣΥΝΤΟΜΙΑ
---
Η ΑΝΘΡΩΠΙΝΗ ΙΣΤΟΡΙΑ ΕΝ ΣΥΝΤΟΜΙΑ
Για αρχή, μιας και δεν γνωριζόμαστε,
σας συστήνομαι  δίχως επιφυλάξεις·
η ιστορία μου είναι πολύ σύντομη,
ξεψύχησα μέσα σε μια μήτρα-φέρετρο
μπήκα δηλαδή στον θάνατο
πριν καν βγω έξω εκεί να ζήσω·
απεβίωσα πάνω στη γέννα
μόλις έγινα έφηβος αυτοκτόνησα·
τριάντα χρονών πέθανα από όγκο
στον εγκέφαλο, επιθετικό καρκίνο,
πενηντάρης καταδικάστηκα
λόγω φρικαλέων ποιητικών εγκλημάτων
εις θάνατον δια απαγχονισμού·
όταν έφτασα στα βαθιά γεράματα
με κλείσανε φυλακή
στην πτέρυγα των μελλοθάνατων
επειδή μετά από τόσα βασανιστήρια
άντεξα και παρέμεινα αμετάπειστα
φιλοσοφικά ανεξάρτητος·
τώρα πια που κατοστάρησα
παρότι αφέθηκα πλέον ελεύθερος
συνεχίζω να είμαι μελλοθάνατος·
αν κι η ιστορία μου είναι
μακρόχρονη πολύ
υπήρξα ανέκαθεν ετοιμοθάνατος,
ας αποχαιρετιστούμε λοιπόν
φιλικά κι εγκάρδια
αφού σήμερα, μόλις τώρα δα,
επισκέφτηκα τους τάφους σας·
εφόσον πλησιάζει κι η αιωνιότητα
προς το τέλος της
σε λίγο, ίσως αναπόφευκτα,
απομείνω ολομόναχος,
όμως ακόμη και τότε
θα παραμείνω ολοζώντανα
ετοιμοθάνατος
© MENELAOS KARAGIOZIS, HELLENIC POETRY, 2019
05/02 MILANO
---
A woman who Chinese officials said was 127 years old – although international authorities never recognised the claim – has died, relatives said on Tuesday.
Official documents said that Luo Meizhen was born in 1885, which would make her the oldest person ever to have lived, but she died at the weekend after months of illness, her son Huang Youhe said.
"She was 127 when she died, it wasn't unexpected," her grandson Huang Heyuan said.
Luo's declared birth date means she may have been the oldest person in the world when she died, ahead of Japan's Jiroemon Kimura, who records say is 116.
But Luo's claim met with little recognition internationally because China did not have a reliable birth certification system until decades after she was born.
Scepticism was further fuelled by reports of the youthfulness of her sons, one of whom she was said to have given birth to at the age of 61.
According to Guinness World Records, the oldest person ever to have lived was Jeanne Calment of France, who was 122 years and 164 days when she died in 1997.
Luo's 1885 birth date was quoted on her official residency permit and identity card, both issued in recent decades, and was confirmed by a state sponsored research institute in 2010.
China's official Xinhua news agency ran reports of her 127th birthday celebrations on its website in October, describing her as China's oldest person.
"She was a kind person but at times had a very bad temper, she had a strong character," Huang Heyuan said.
Luo, who worked as a farmer all her life, and gave birth to five children, is survived by several great-great grandchildren in the remote village of Longhong, in China's southern province of Guangxi.
The village is part of Bama county, a poor region that officials say is home to more than 80 centenarians.
Her relatives gathered in her simply furnished brick house Tuesday to light red incense sticks in remembrance.
Relatives said they had stored her body on a mountain close to their home and were waiting for an auspicious date later this month to bury her.
 12-12-2013
---
Born in to war and starving to death, these pictures show the shocking condition of a tiny baby two days before he died of malnutrition in Yemen.
Udai Faisal was born five months ago, as warplanes were launching airstrikes on his village, Hazyaz, a shantytown on the southern edge of Sanaa.
But as war devastated the impoverished region, his family were faced with an ever increasing battle against starvation, eating once a day amid soaring food prices and limited supplies.
Udai's skeletal body finally broke down under the ravages of hunger leaving his limbs looking like twigs, his cheeks sunken and his eyes dry.
He vomited yellow fluid from his nose and mouth. Then he stopped breathing.
'He didn't cry and there were no tears, just stiff,' said his mother, Intissar Hezzam. 'I screamed and fainted.'
The spread of hunger has been the most horrific consequence of Yemen's war since Saudi Arabia and its allies, backed by the United States, launched a campaign of airstrikes and a naval blockade a year ago.
The impoverished nation of 26 million people, which imports 90 percent of its food, already had one of the highest malnutrition rates in the world, but in the past year the statistics have leaped.
The fate of Udai illustrated the many factors, all exacerbated by war, that lead to the death of an infant.
5th February 2019
---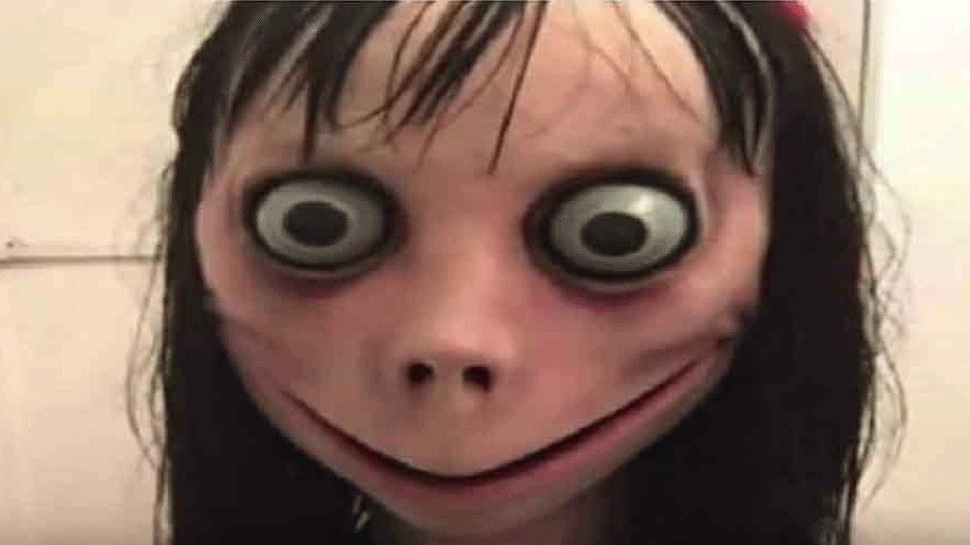 A suicide game called "Momo" is spreading on social media, prompting police in multiple countries to issue warnings about it.
The "Momo" challenge asks people to add a contact via WhatsApp. They are then urged to hurt themselves or commit suicide.
It has been compared to the "Blue Whale challenge" that led to reports of suicides in Russia and the U.S., including a teenager in San Antonio.
Police in Argentina are investigating whether "Momo" is connected to the suicide of a 12-year-old girl, according to the Buenos Aires Times.
The Computer Crime Investigation Unit in Mexico says the game started on Facebook where members were "challenged" to communicate with an unknown number.
About Teen Suicide
The reasons behind a teen's suicide or attempted suicide can be complex. Although suicide is relatively rare among children, the rate of suicides and suicide attempts increases greatly during adolescence.
Suicide is the third-leading cause of death for 15- to 24-year-olds, according to the Centers for Disease Control and Prevention (CDC), after accidents and homicide. It's also thought that at least 25 attempts are made for every completed teen suicide.
The risk of suicide increases dramatically when kids and teens have access to firearms at home, and nearly 60% of all suicides in the United States are committed with a gun. That's why any gun in your home should be unloaded, locked, and kept out of the reach of children and teens.
Overdose using over-the-counter, prescription, and non-prescription medicine is also a very common method for both attempting and completing suicide. It's important to monitor carefully all medications in your home. Also be aware that teens will "trade" different prescription medications at school and carry them (or store them) in their locker or backpack.
Suicide rates differ between boys and girls. Girls think about and attempt suicide about twice as often as boys, and tend to attempt suicide by overdosing on drugs or cutting themselves. Yet boys die by suicide about four times as often girls, perhaps because they tend to use more lethal methods, such as firearms, hanging, or jumping from heights.
Life is just beginning.
Suicide (i.e., taking one's own life) is a serious public health problem that affects even young people. For youth between the ages of 10 and 24, suicide is the third leading cause of death. It results in approximately 4600 lives lost each year. The top three methods used in suicides of young people include firearm (45%), suffocation (40%), and poisoning (8%).
Deaths from youth suicide are only part of the problem. More young people survive suicide attempts than actually die. A nationwide survey of youth in grades 9–12 in public and private schools in the United States (U.S.) found that 16% of students reported seriously considering suicide, 13% reported creating a plan, and 8% reporting trying to take their own life in the 12 months preceding the survey. Each year, approximately 157,000 youth between the ages of 10 and 24 receive medical care for self-inflicted injuries at Emergency Departments across the U.S.
Suicide affects all youth, but some groups are at higher risk than others. Boys are more likely than girls to die from suicide. Of the reported suicides in the 10 to 24 age group, 81% of the deaths were males and 19% were females. Girls, however, are more likely to report attempting suicide than boys. Cultural variations in suicide rates also exist, with Native American/Alaskan Native youth having the highest rates of suicide-related fatalities. A nationwide survey of youth in grades 9–12 in public and private schools in the U.S. found Hispanic youth were more likely to report attempting suicide than their black and white, non-Hispanic peers.
---
Iran Karaj 25.02.2014 – Regime forces beats up a convict before public hanging
Within the borders of Iran, executions are not just carried out behind the doors of the prisons, but something that is part of the public sphere. Public executions are common, meant in part to be a deterrent for crimes and drug use. But the reality is that they have become a level of entertainment and are not the real deterrent that the regime claims.
Children and families are often present at these executions, such as the one for a 21-year old inmate, who was publicly hanged in Babol, which is in northern Iran. The victim was only identified by his initials and had been found guilty of murder. His sentence was issued by the first criminal court of the province and was carried out on Saturday after being permitted the "Head of the Judiciary", according to the public prosecutor of Mazandaran.
Another prisoner was hanged at dawn on Saturday, April 22. He was sentenced for drug related charges and Mehdi Mirzaei, the individual who was hanged, had been held in Parsilon Prison for the past three years. This is just another example of how these executions also are used to address the drug issues within their society.
Other realities of public executions are that the individuals being executed could be prisoners sentenced when they were juveniles. One man was publicly hanged on April 22, in the city of Babol, according to the state-run Iranian news agencies. The state controlled YJC news agency reported that the 21-year old was identified as HR, and he was sentenced to the Qisas death penalty, which is a retribution penalty.
Iran executes more individuals per capita than any other country in the world, according to Amnesty International's annual report. At least 197 individuals have been executed in Iran since the beginning of 2017.
The first deputy of Iran's Chief Justice, Mohseni Ejeie, cited criticism regarding a number of executions of criminals in a press conference. He cited several examples of individuals who were executed for moving narcotics. "Or in Kerman, two people identified as Abdulhamid Hossein Zehi and Faramarz Kohkan, who were active in a drug trafficking ring, were hanged…or in Karaj a person was sentenced to death for carrying drugs…what else can we do with these people except execute them? At any rate, we will act according to our laws…and will not show leniency," said Ejeie.
The result is that public executions will continue, despite the evidence that they are not a necessary deterrent and can have a significant impact on the mental and emotional well-being of society as a whole.
---
BRAIN CANCER PICTURES
Tony Barrow
[…]
"His mantra had always been 'You're not here for a long time, you're here for a good time', which turned out to be so very apt."
[…]
From his diagnosis in May 2015, Tony made sure he created precious memories with his family which would last long after his death in March 2017.
[…]
He will also be remembered as a professional Rugby League player in teams such as Oldham RLFC and Swinton Lions RLFC. Fitness had always been a big part of his life and he even managed to keep it up after his diagnosis: taking part in a CrossFit challenge straight after radiotherapy and the St Helens 10k during chemotherapy.
After he retired from rugby in 2001, he started working as a senior childcare worker at Nugent House School: a school for children with emotional, behavioural and mental health needs. It was a challenging job but Tony loved it and was proud to be a positive role model for his students. Tony also trained to became a personal trainer and delivered one-to-one training sessions from his garage and bootcamp sessions in local rugby clubs, schools and parks which is how we met. […]
After these highs came one final low. For the first time, Tony was having epileptic seizures and he was taken to hospital in an ambulance. Tony kept saying 'when I get out, I'm going to do this' and 'I'm going to do that'. He was so sure he was going to be discharged and I think the rest of us started to believe it too. Tony never made it out of hospital and he died 10 days after being admitted. He had always tried to be so positive with everyone and we both tried to shield friends and family from the ugly side of it all.
"From the outside looking in, he was invincible and it was such a shock that such a big character was gone."
CANCER TREATMENT: IMRT (RADIATION THERAPY)
Matthew Caine
He was passionate about his job and so loved by staff and pupils alike at school. He put so much effort in, working weekends and holidays to make sure the children had the best education possible. When a pupil's poem about Matthew was read at his funeral, I was so moved to hear how much he had helped his students. I knew he was a kind and caring man but to hear it in this poem was incredible. It was also heart-warming to hear everyone comment about his cheesy sense of humour; apparently one of his students asked for a ruler once and Matthew said: 'will Henry VIII do?'
Adrian Vitoria
My talented and wonderful brother Adrian had twice cheated death before the brain tumour which was to claim his life was diagnosed.
As a toddler, he underwent surgery for a pulmonary stenosis which, had it remained undiagnosed, would have killed him in a matter of weeks. Many years later he was caught up in the 2004 Boxing Day Tsunami which claimed the lives of more than 280,000 people. He fled his hotel in Sri Lanka helping, and being helped by, local families as he went.
In the years between and immediately after those two brushes with death, Adrian had trained as an actor and realised his dream of becoming a film maker. He had directed the soaps including Casualty, Brookside, Hollyoaks and The Bill, "made" it in Hollywood, where he worked with Robert De Niro and in Norway with Sean Bean. He directed acclaimed films such as Age of Heroes with Sean Bean and Danny Dyer, The Crew with Stephen Graham and Heist with Robert De Niro. He was close friends with The Lost Boys actor Billy Wirth and they were in touch until the end when Billy was a pall bearer at Adrian's funeral.
[…]
Adrian's diagnosis had been kept very quiet and although he wouldn't have been able to work on a big movie during his treatment, he was on set throughout what was to be his last project as a director. Working with his friend, the writer Alistair Audley, he directed the short film Leni, Leni about the German filmmaker and Nazi propagandist Leni Riefenstahl played by Hildegard Neil. Although they were close, even Alistair wasn't fully aware of how serious things were. Adrian lost his hair, struggled with his peripheral vision and had difficult remembering things but he remained typically brave and hard-working.
[…]
I don't think people are aware of how cruel this disease is. It was torture for me to watch as he was robbed of his mobility and of all the faculties which had made him such a good communicator. He couldn't read or write properly. He became bedridden, unable to even lift his head. It was an agonisingly slow decline with Adrian becoming locked-in as the tumour grew.
The dreadful deterioration continued as the weeks of autumn passed and Adrian was treated by the hospice at home team. On the evening before he died, I sat with Adrian and held his hand. He gave me a look as if to say goodbye and I told him I loved him. He passed away on 20 November 2016 at the age of 48.
---
Death Row – The Final 24 Hours
Twenty-five prisoners were executed in the United States in 2018. Eight states carried out executions.
Date
Number
Since 1976
State
Name
Age
Race
Victim Race
Method
Drug Protocol
Years From
Sentence To
Execution
1/18/18
1466
TX
Anthony Shore
55
White
1 Latina female
Lethal Injection
1-drug (Pentobarbital)
12
1/30/18
1467
TX
William Rayford
64
Black
1 Black female
Lethal Injection
1-drug (Pentobarbital)
17
2/1/18
1468
TX
John David Battaglia
62
White
2 White females
Lethal Injection
1-drug (Pentobarbital)
16
2/22/18
1469
FL
Eric Scott Branch
47
White
1 White female
Lethal Injection
3-drug (Etomidate)
23
3/15/18
1470
AL
Michael Eggers*
50
White
1 White female
Lethal Injection
3-drug (Midazolam)
15
3/15/18
1471
GA
Carlton Michael Gary
67
Black
3 White females
Lethal Injection
1-drug (Pentobarbital)
31
3/27/18
1472
TX
Rosendo Rodriguez III
38
Latino
1 White female
Lehtal Injection
1-drug (Pentobarbital)
9
4/19/18
1473
AL
Walter Leroy Moody
83
White
1 White male
Lethal Injection
3 drug (Midazolam)
22
4/25/18
1474
TX
Erick Daniel Davila
31
Black
2 Black females
Lethal Injection
1-drug (Pentobarbital)
9
5/4/18
1475
GA
Robert Earl Butts, Jr.
40
Black
1 Black male
Lethal Injection
1-drug (Pentobarbital)
19
5/16/18
1476
TX
Juan Castillo
37
Latino
1 Latino male
Lethal Injection
1-drug (Pentobarbital)
12
6/27/18
1477
TX
Danny Bible
66
White
1 White female
Lethal Injection
1-drug (Pentobarbital)
14
7/17/18
1478
TX
Christopher Young
34
Black
1 South Asian male
Lethal Injection
1-drug (Pentobarbital)
12
7/18/18
1479
OH
Robert Van Hook
58
White
1 White male
Lethal Injection
3-drug (Midazolam)
32
8/9/18
1480
TN
Billy Ray Irick
59
White
1 White female
Lethal Injection
3-drug (Midazolam)
32
8/14/18
1481
NE
Carey Dean Moore*
60
White
2 White males
Lethal Injection
4-drug (Diazepam, Fentanyl)
38
9/26/18
1482
TX
Troy Clark
51
White
1 White Female
Lethal Injection
1-drug (Pentobarbital)
18
9/27/18
1483
TX
Daniel Acker
46
White
1 White Female
Lethal Injection
1-drug (Pentobarbital)
17
10/29/18
1484
SD
Rodney Berget*
56
White
1 White Male
Lethal Injection
1-drug (Undisclosed, likely Pentobarbital)
7
11/1/18
1485
TN
Edmund Zagorski
63
White
2 White Males
Electrocution
34
11/14/18
1486
TX
Roberto Moreno Ramos~
64
Latino
2 Latina Females, 1 Latino Male
Lethal Injection
1-drug (Undisclosed, likely Pentobarbital)
25
12/4/18
1487
TX
Joseph Christopher Garcia
47
Latino
1 White Male
Lethal Injection
1-drug (Pentobarbital)
15
12/6/18
1488
TN
David Earl Miller
61
White
1 White Female
Electrocution
36
12/11/18
1489
TX
Alvin Avon Braziel Jr.
43
Black
1 White Male
Lethal Injection
1-drug (Pentobarbital)
17
12/13/18
1490
FL
Jose Jimenez
55
Latino
1 White Female
Lethal Injection
3-drug (Etomidate)
24
The three-drug protocol typically begins with an anesthetic or sedative, followed by pancuronium bromide to paralyze the inmate and potassium chloride to stop the inmate's heart. The first drug used varies by state and is listed above for each execution.
ƒ female
* volunteer – an inmate who waived ordinary appeals that remained at the time of his or her execution
~ foreign national
¥ white defendant executed for murder of black victim
---
 JOHN KEATS GRAVE STONE, ROME ITALY
---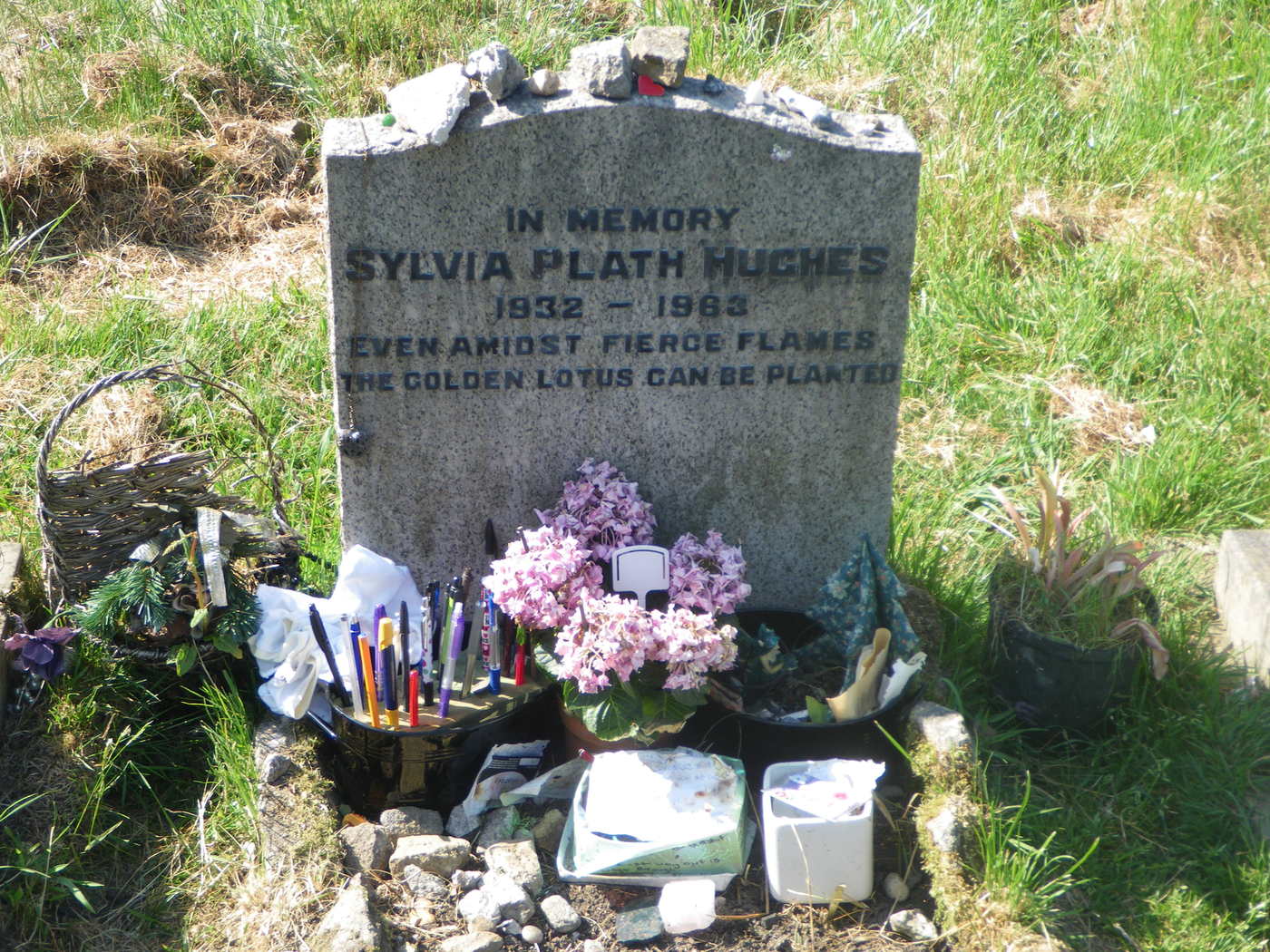 ---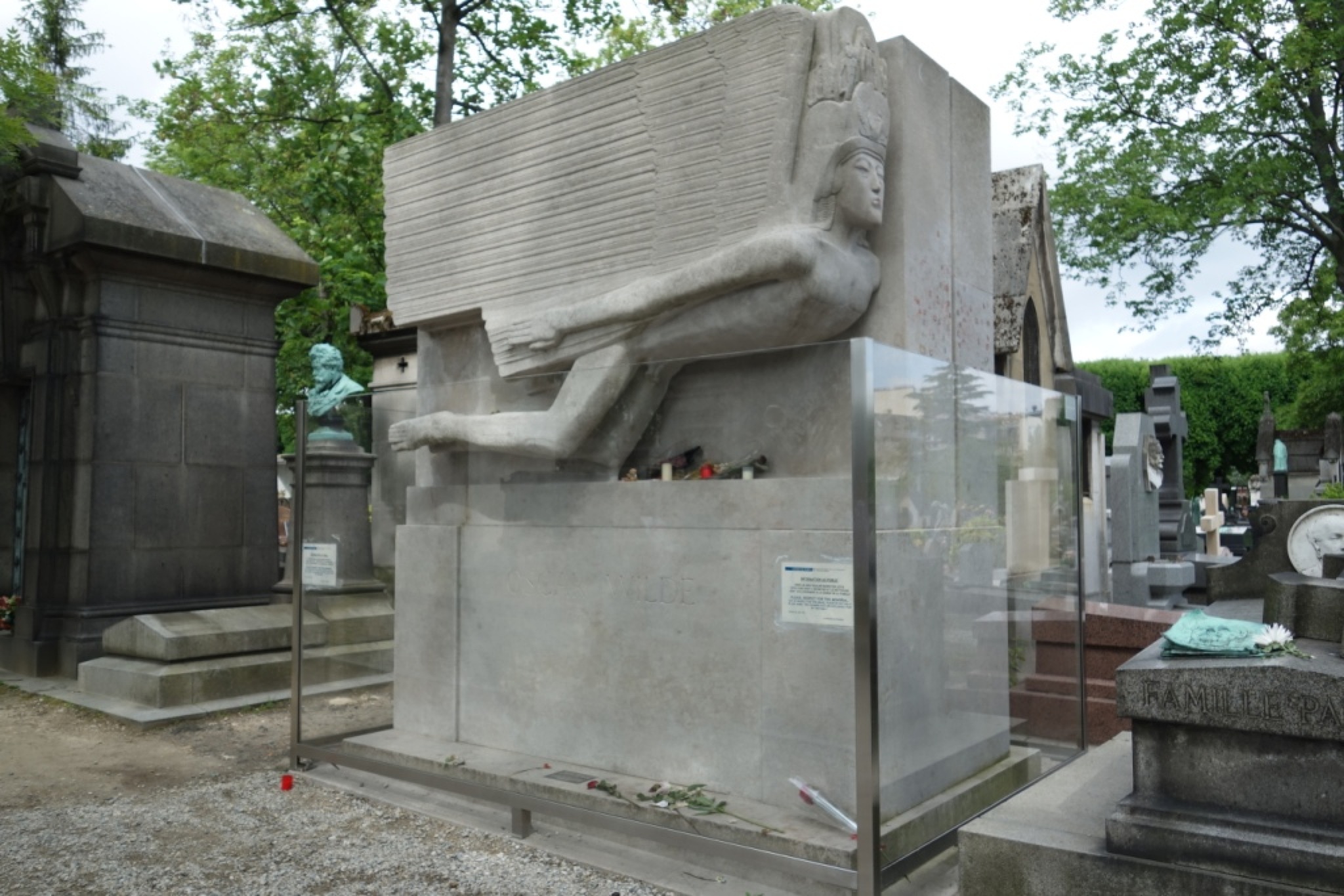 Oscar Wilde (1854-1900)
Père Lachaise Cemetery, Paris, France
Wilde's tomb has also been the victim of vandalization—though of a much more loving sort. In years past, the stone was covered in red lipstick kisses, left by Wilde's admirers. But in 2011, his descendants, fearing degradation from the lipstick, had the memorial cleaned and protected behind glass. "We are not saying, 'Go away,' but rather, 'Try to behave sensibly,'" Wilde's grandson told the New York Times. Predictably, the glass is now usually covered in lipstick too.
---
Vladimir Nabokov (1899-1977)
Cimetière de Clarens-Montreux, Montreux, District de la Riviera-Pays-d'Enhaut, Vaud, Switzerland
He is (of course) buried next to his wife Véra, to whom he dedicated almost all of his books, and who was "his first reader, his agent, his typist, his archivist, his translator, his dresser, his money manager, his mouthpiece, his muse, his teaching assistant, his driver, his bodyguard (she carried a pistol in her handbag), the mother of his child, and, after he died, the implacable guardian of his legacy."
---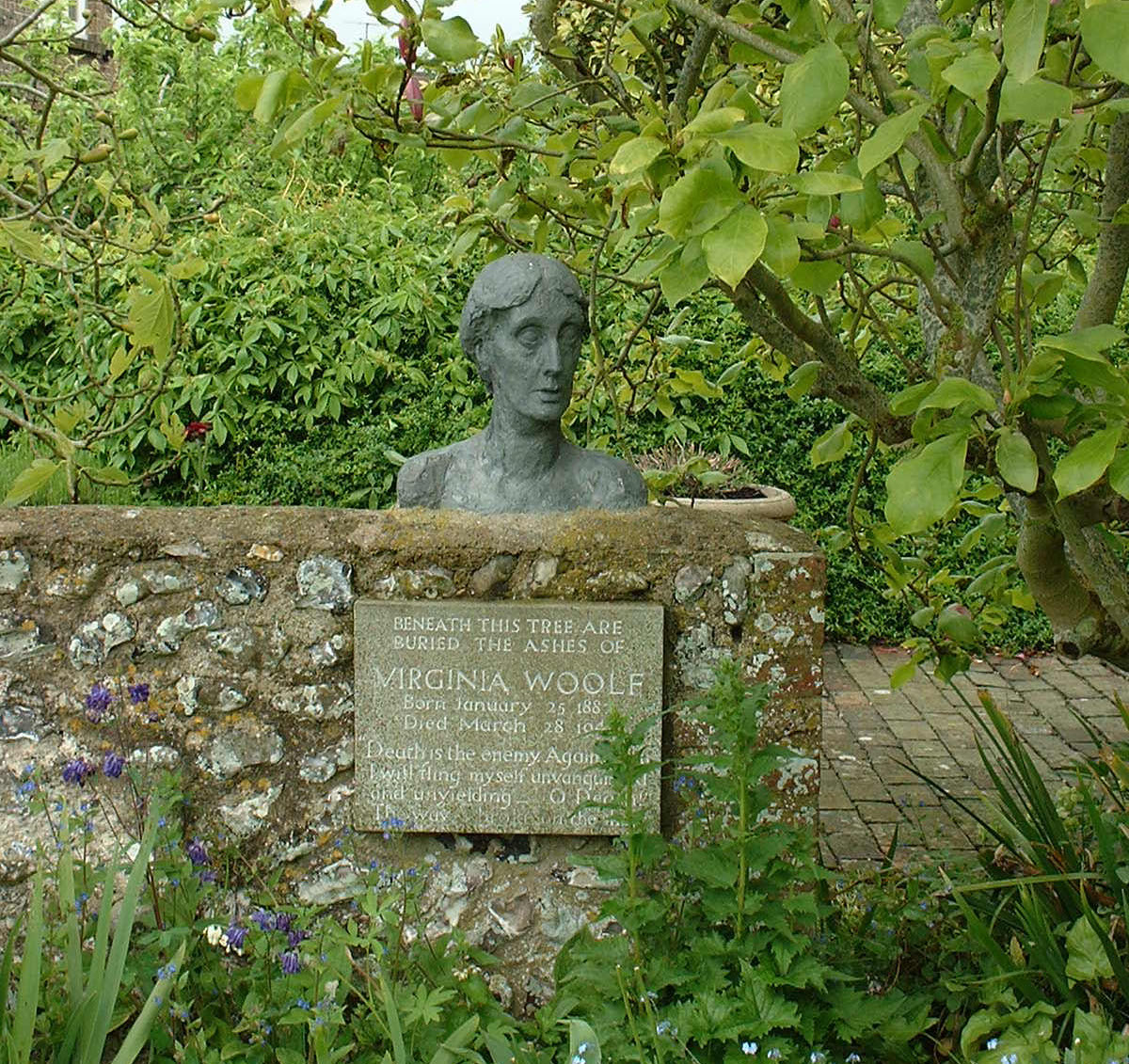 Virginia Woolf (1882-1941)
Monk's House garden, Rodmell, Lewes District, East Sussex, England
Virginia Woolf committed suicide by filling her pockets with stones and walking into the River Ouse. She was cremated, and her ashes are buried beneath an elm tree in the garden of Monk's House, the 18th-century cottage where she lived with her husband, Leonard Woolf, from 1919 until her death. When Leonard Woolf died of a stroke, 50 years later, he too was cremated, and his ashes buried with his wife's. The elm has since blown down, and busts of the Woolfs were erected in the garden in its place.
---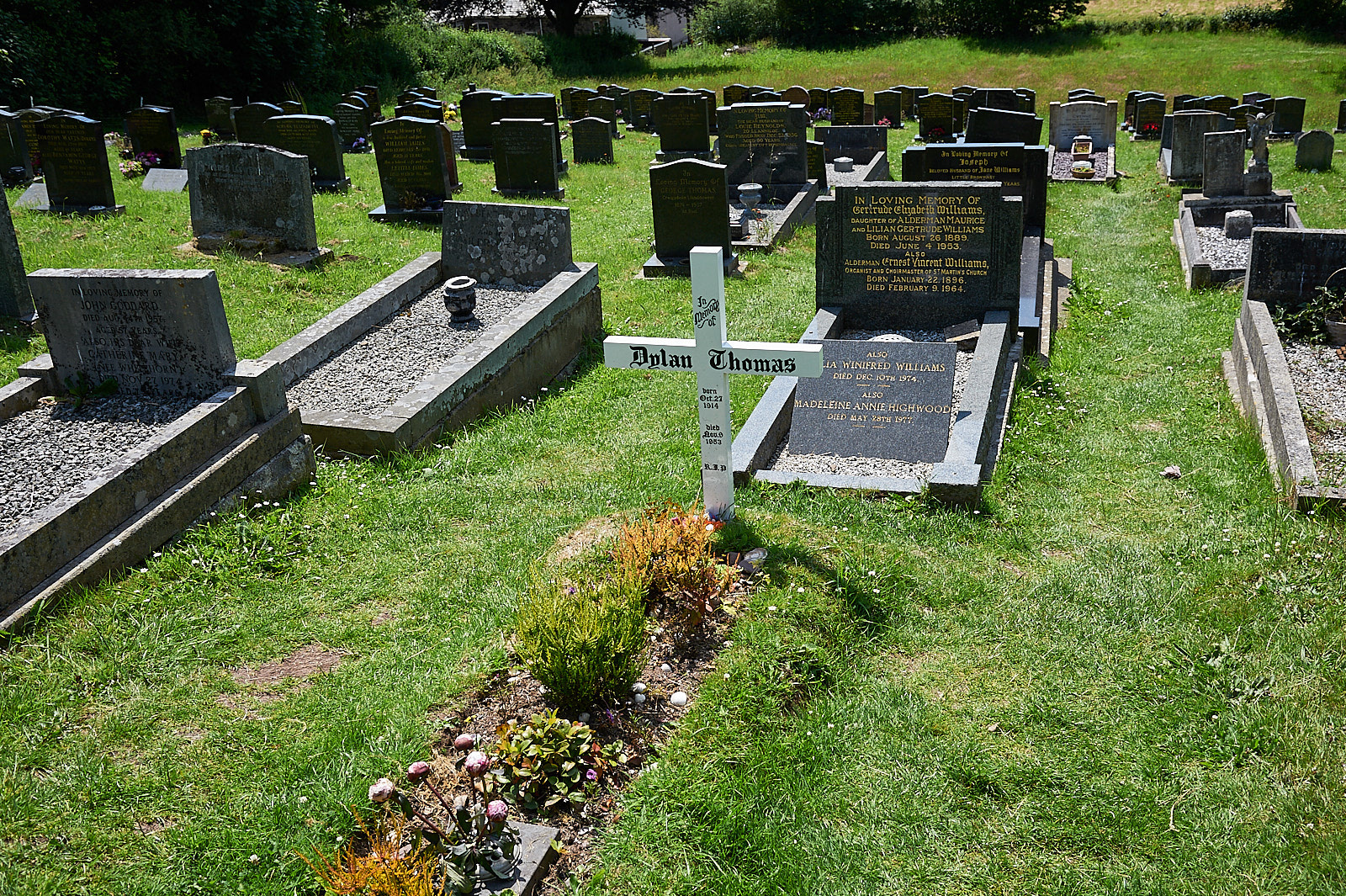 Dylan Thomas (1914-1953)
In the over-spill graveyard of Saint Martin's Church, Laugharne, Carmarthenshire, Wales
As the legend goes, Dylan Thomas collapsed in New York's famous Chelsea Hotel shortly after declaring, "I've had eighteen straight whiskies. I think that's the record!" He died in the hospital a few days later and has gone down in history as the ultimate example of a poet who drank himself to death—but newer research has suggested that undiagnosed pneumonia might have been the real culprit. Not that the binge drinking helped or anything. Dylan Thomas's wife, Caitlin Thomas, is buried in the same grave; her name appears on the other side of the cross. She outlived him by over 40 years.
---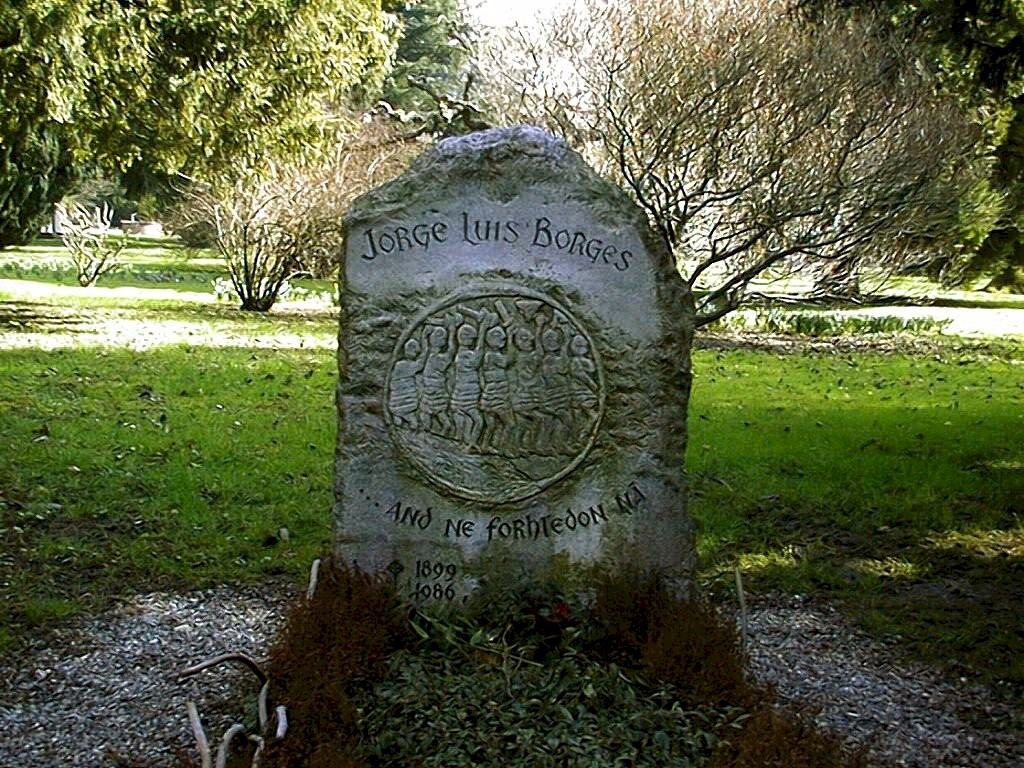 Jorge Luis Borges (1899-1986)
Cimetière de Pleinpalais, Geneva, Switzerland
The headstone inscription is in Anglo Saxon, which he taught at the National Library in Buenos Aires (he met his wife in class). It is from the Old English poem Battle of Maldon, and translates to "do not fear at all."
In 2011, Chilean writer Eduardo Labarca provoked outrage when he published a book, El enigma de los módulos, whose cover depicted Labarca urinating on Borges's grave (he was actually holding a water bottle). Labarca defended himself to the Guardian, saying "Peeing on that tomb was a legitimate artistic act. The cover of the book is coherent with the contents and is best understood through that. . . I am not just a person who goes around peeing on tombs, but a writer with a serious oeuvre. . . Anyone who is offended by this is very short-sighted. . . Borges was a giant as a writer but I feel complete contempt for him as a citizen. As an old man, almost blind, he came to meet the dictator Pinochet in the days when he was busy killing."
---
 THE OLDEST MAN IN THE WORLD
AN Indonesian centenarian believed to be the oldest man in the world has reportedly died at age 146.
Numerous reports said Sodimejo, who is also known as Mbah Gotho, from the Central Javanese city of Solo died on Sunday after he was admitted to a local hospital two days before.
[…] said while Mbah Gotho regularly received treatment at the Sragen Hospital, the centenarian often refused to be admitted.
"He was warded at the hospital before this but insisted to be taken … home," he said.
Mbah Gotho's resident identity card indicates he was born in 1870.
Relatives of the life-long heavy smoker said he never suffered any critical illness and had survived his four wives, 10 siblings and three of his children.
In an interview with The Jakarta Post last year, Mbah Gotho said he was looking forward to embracing death.
"Life is only a matter of accepting your destiny wholeheartedly," he said.
"I have wanted to die for a long time. My wives, children and siblings all have passed away but Gusti Allah [God] has blessed me with a long life. I have to live my life patiently and accept my destiny wholeheartedly."
His grandson Suyanto told the BBC (via The Independent) that Mbah Gotho was taken to the hospital late last month but discharged himself six days later.
"Since he came back from the hospital, he only ate spoonfuls of porridge and drank very little," the Suyanto said.
Despite his claim to be age 146, doubts have been raised over Mbah Gotho's exact date of birth as Indonesia only began recording births around 1900. On top of that, because his birth documents were unverifiable, his claim could not be officially recognised.
Last year, the centenarian made headlines after local officials in Solo said his age was verified.
Mbah Gotho also told the media at the time that he began preparing for his death in 1992 and said he wanted the words "What I want is to die" etched on his gravestone.
Suyanto said the centenarian was buried on Monday morning in a plot he bought several years ago.
"He didn't ask much. Before he died, he just wanted us, his family, to let him go," Suryanto said.
If his claims are true, Mbah Gotho would have surpassed 122-year-old French woman Jeanne Louise Calment, the Guiness World Record holder, who died in 1997.
2 MAIOY 2017
---
---